Your current location: Guiyang.com > Life Channel > Qianxue Gang
National Public Cultural Development Research Center of Beijing Normal University unveiled
来源:人民网-教育频道 Release time: 2019-12-30 10: 34Source : People's Daily Online -Education Channel
People's Daily Online, Beijing, December 27 (Sun Jing) A few days ago, the unveiling ceremony of the National Cultural and Tourism Research Base, the National Public Cultural Development Research Center of Beijing Normal University, was held at Beijing Normal University. Mr. Huang Huilin, a senior professor at Beijing Normal University and dean of the Chinese Academy of International Communication, was hired as the director of the academic committee of the research base.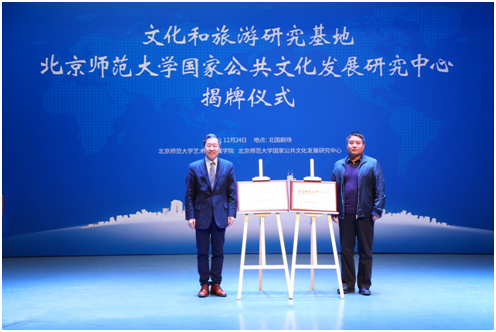 Bai Xuehua, deputy director of the Department of Public Services of the Ministry of Culture and Tourism, and Zhou Zuoyu, deputy principal of Beijing Normal University, unveiled photos provided by the school
Zhou Zuoyu, vice president of Beijing Normal University, expressed the hope that the research base will strengthen cultural self-confidence, serve major strategic and key reform tasks in the cultural field, serve the needs of the era of popular art and aesthetic education for all, and serve the practice of public culture and tourism institutions at all levels. Demand, serving the national needs of international cultural exchanges, exploring new models of high-end cooperation between universities and national government departments, providing decision-making references for the design of national cultural systems, and improving the ability of arts to provide social services.
In his speech, Bai Xuehua, Deputy Director of the Department of Public Services of the Ministry of Culture and Tourism, clearly stated the mission and responsibilities of the cultural and tourism research base, and hoped that the research base will give full play to the advantages of the unit where the Secretariat of the National Committee of Cultural and Tourism Public Services Experts is located and universities. Study the characteristics of the pool of talents, participate in the guidance of practice, promote the development of public services, serve the general public internally, display the image of the country to the outside world, and demonstrate the superiority of socialist core values.
According to reports, the National Normal Research Center for the Development of Public Culture of Beijing Normal University will closely rely on the century-old school tradition and profound humanities of Beijing Normal University, and give full play to the characteristics and advantages of the integration and development of all art disciplines. The construction of the tourism product trading center is the engine, and we strive to build a national-level culture and a high-end think tank for tourism.
Editor-in-chief: Yang Bowen